Live Online Fiber Optic Training
Train With Industry Experts
This unique course allows the student to follow along with an FIS instructor in real-time, this is not a prerecorded course.
Discussions are welcomed with plenty of time for questions, sharing of challenges and successes from the field. Each student after registration will receive via mail "Johnny's tool box" and the FIS fiber optic manual, a $315.00 value, to follow along with the instructor on different cable construction types along with stripping and preparing a fiber cable for termination or fusion splicing.
Upon completion of the course an FIS certification will be sent to each student. Further eligibility to receive (16) continuing education credits for Building Industry Consulting Service International (BICSI) credential certification program can be secured by each student who is member of BICSI.
The Live Online course reviews and features some of the latest fiber optic equipment and tools such as power meters, light sources, visual fault locators, Optical Loss Test Sets (OLTS) OTDRs and fusion splicers.
RECEIVE 16 BICSI CREDITS
Vice President of Training
Instructor, Sales Engineer, and Test Equipment Product Line Manager
Live Online Training Dates
Training Breakdown -

Only $349.00!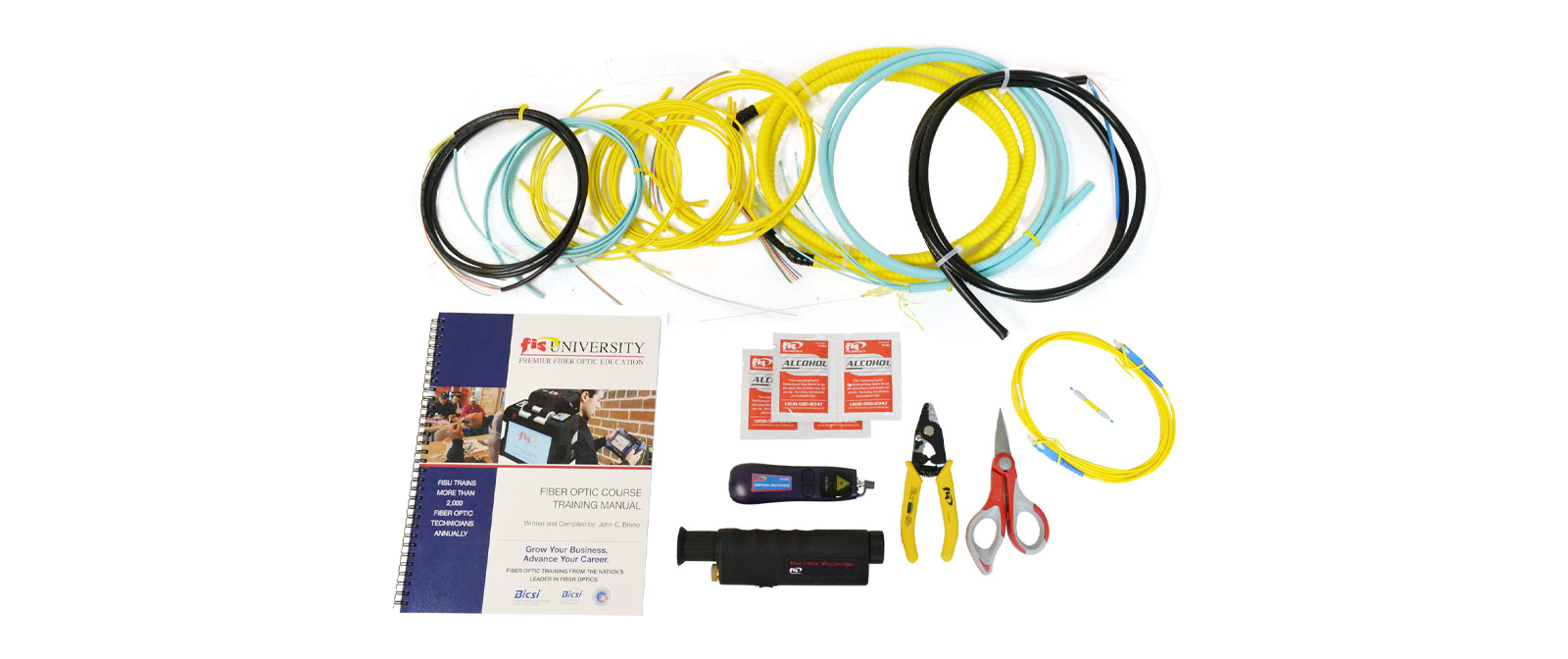 Included in Your FREE Johnny's Tool Box:
• FIS University Training Manual
• FIS Mini VFL 2.5mm Adapter
• Jonard Fiber Optic Kevlar Cutter
• FIS Three Hole Fiber Optic Stripper
• FIS Simplex 3mm 2 Meters SM SC/UPC-SC/UPC
• Fiber Optic Alcohol Towelette, (4) 4" x 6"
• Fiber Scope w/Universal 2.5mm (SC, ST,FC) and 1.25 LC - UPC/APC
Included Samples:
• Simplex – S09SX01CZNRY - 2 Meters
• Duplex – M50DX02CGNRA - 2 Meters
• Distribution – S09DI06CZNRY48 - 2 Meters
• Breakout – M50BK04CGNRA20A - 2 Meters
• Micro – Distribution – S09MD12CZNPY20 - 2 Meters
• Loose Tube Gel Filled – FSSC00660 - 2 Meters
• Indoor/Outdoor – S09IO06CZNRBL48 - 2 Meters
• Ribbon – S09RB12CZNRY - 2 Meters
• Aluminum Interlock Armor - S09DI06CZNRY48AIA2 - 2 Meters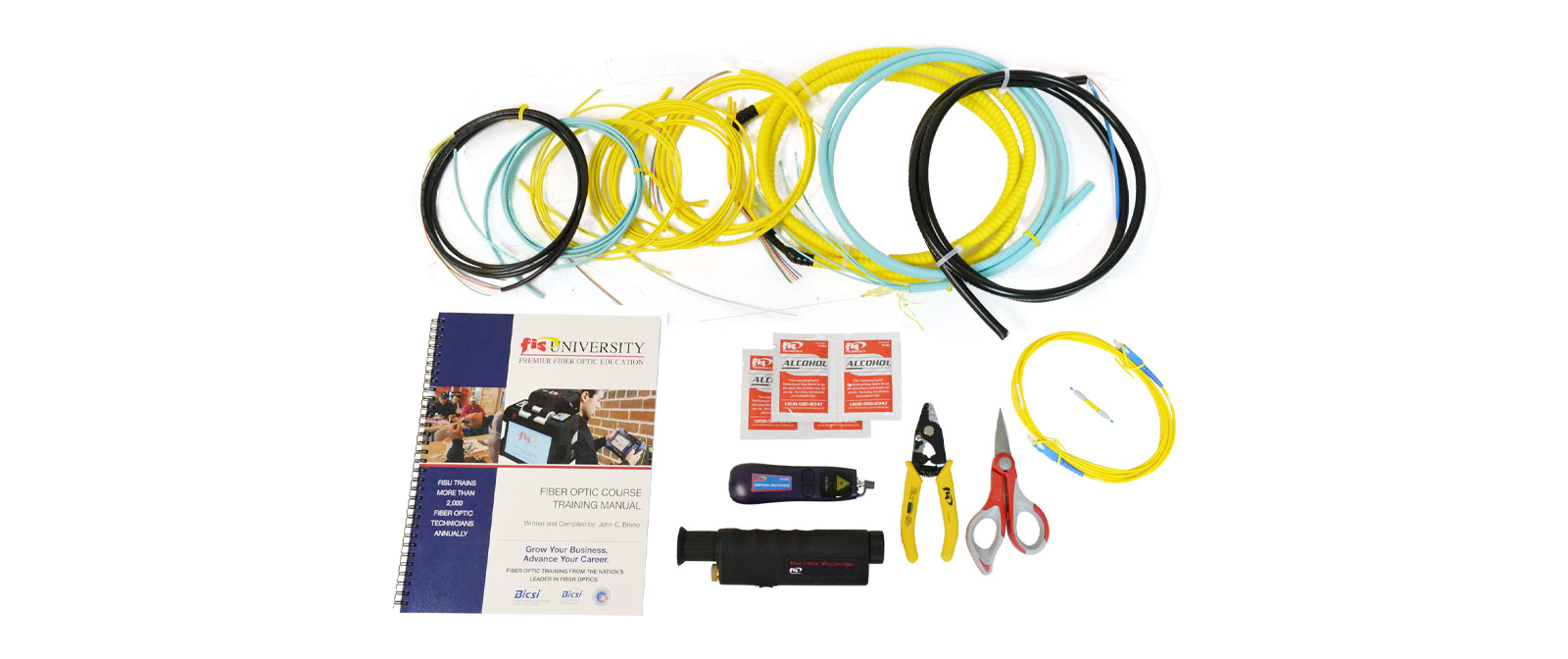 John has more than 20 years of experience training fiber optic professionals. He has trained well over 25,000 students in the two decades as Fiber Instrument Sales lead instructor.
This book was written and compiled by one of the fiber optic industry's leading instructors, John Bruno.
This training manual can be used as a tool for FIS University instructors during class, as well as a reference for anyone working in the fiber optic field.
The manual begins with the fundamentals of basic fiber optic theory and leads you through connectorization techniques, video microscope operation, power meter & light source theory(OLTS), OTDR theory & testing, and finishes up with fusion splicing. This guide comes with a complete and thorough reference section and troubleshooting guide. Every section goes into great detail about each topic.
The reference material in this book is informative and easy to understand. It is a must-have tool for fiber optic professionals.
8 hours: 8am -12pm, 1pm - 5:30pm
Basic Fiber Theory
• Cleaning
• Tyndall's Experiment
• Advantages
• Components of a Link
• Principals of light - Index of Refraction, Wavelengths
Simplex vs. Duplex
• Print String
• Hands On Stripping of Simplex Cable Jackets
Singlemode Fiber
• SMF28, SMF28E, AMF 28E+ and SMF28 Ultra
• WDM
• CWDM
• DWDM
• FTTx
Multimode Fiber
• LED Vs. VCSEL
• OM1, OM2, OM3, OM4, OM5
• SWDM
Bend Optimized Fiber
• Clear Curve
• Ultra Fiber
Break - 15 Minutes
Multi-fiber Construction (Samples Provided)
• Breakout
• Distribution
• Micro-Distribution
• Loose Tube (gel filled)
• Indoor/Outdoor
• Ribbon
• Armor
• Corrugated Steel
• Aluminum Interlocking Armor
Connectors
• Connector Installation Methods
• Epoxy Polish
• Fusion Splice
• Mechanical Splice
• ST, SC, FC, LC
• MPO/MTP
• MPO Trunk Cables
• MPO A, B and C polarities
End Face Inspection
• IEC Standards
• Singlemode
• Multimode
• Visual demonstration of connector probe
• IEC Test
Hands on use of Handheld Microscope
• Oblique vs. coaxial
• Scope provided cable
• Clean and scope provided Cable
Optical Loss Test SET (OLTS) Procedures
• Light Source Overview
• Power Meter Overview
• Industry Standards Pass/Fail
• Demonstrate OLTS test Method A (one reference cord)
• Demonstrate OLTS Test Method B (two reference cords)
• Optical loss and Power Budgets
8 hours: 8am -12pm, 1pm - 5:30pm
OTDR Theory
• How it Works
• Events, reflective vs. non-reflective
• ORL
• Splicing
• Bends
• OTDR Scan Overview
• Ghosts
• Gainers
• Graphic Trace Analysis
• Live OTDR testing cycle and Demo
Break - 15 Minutes
Mechanical Splicing Hands On
• Cut and Strip Provided Patch Cord
• Cleave Fibers
• Insert into US126 Splice
• Verify with VFL
Fusion Splicing Theory
• Core, Active Cladding and Cladding Alignment
• Removable vs solid Chicks
• Cleaver Maintenance and blade rotation
• Arc Checking
• Electrodes
Hands on Fusion Splice Demonstration
• SOC Overview
• Show 900um and 3mm videos
• Demonstrate SOC Connectors
Review Test